A simple, easy to use, and yet very effective soil ph meter that will help you make the dream for your belonged private garden come true!
Convenient to test the soil conditions of fruits, flowers, vegetables, shrubs.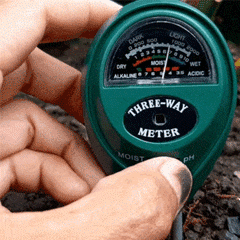 Grow healthy and strong plants with
'3 in 1 Soil Tester',
a convenient plant measuring tool. This helps you to
instantly know about the soil condition and when to supply your plant with light, water, or ph.
Main Features
[3-IN-1 FUNCTION] Test soil moisture, pH value, and sunlight level of plant with our soil meter to help you specialize in grasping when you need to water your plant so that plants can grow better.

[EASY TO USE] No batteries needed, just insert the sensor probe into 2/3 of soil depth(about 5.9 inches), extremely convenient for easy storage, carrying around, indoor & outdoor use. (NOTE: The soil pH meter can't be used to test the pH value of any other liquid.)

[CLEAR DISPLAY] White scales & pointer on a black background make the soil moisture meter easy to recognize, even novice gardeners could better communicate with plants. 

[ACCURATE & RELIABLE] Designed with double sensor for speed high-accuracy reading, illuminance monitor for screen visibility, and wide-scale display for the improved reading experience.
Usage Scenarios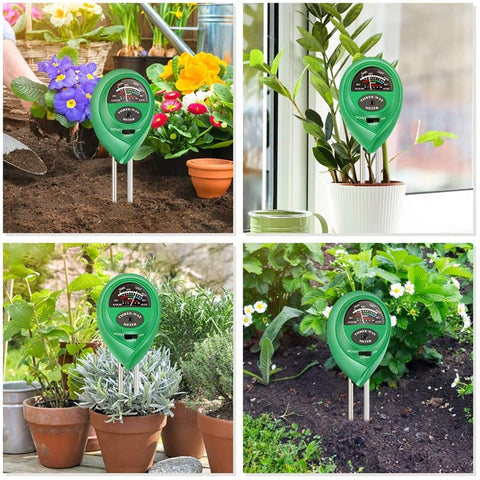 Step 1: Switch moisture/pH/light position.
Step 2: Stick the probe into the soil about 5.9 inches (Watering the soil before test pH value. You cannot meter PH in dry soil).
Step 3: Adjust the position of the probe until the pointer on the dial swing slightly.
Step 4: After 10 minutes, Note moisture/pH/light level in the dial.
Step 5: Remove probe from soil and wipe clean after each use.
Specification
| | |
| --- | --- |
| Materials | |
| Product Size | Soil Hygrometer: 30CM × 10CM × 5CM |
| Product Weight | |
| Package Contents | |
Note
Due to manual measurements, please allow slight measurement deviations.
Do not force it into very hard soil or touch hard objects since it will be easy to damage the probe.
Do not use it to test pure water or other liquids. It can only be used to measure soi.
Do not leave the meter in the soil for a long time.
If the soil is too dry the indicator will not move, and water it before testing.